How to raise money for a scoreboard in 5 easy steps
Did you know that one of the most popular reasons for doing a fundraiser is to buy a new scoreboard.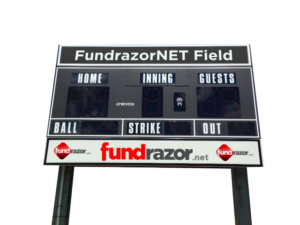 New scoreboards can range from $3500 and upwards not counting the cost of installation.
With supply chain issues and demand, prices have increased substantially.
The thing is that youth sports leagues are a non-profit organization and many of them struggle each season with their budgets. Most people don't realize this.
The reason for needing extra funds is fairly simple and quite common.
The youth non-profit organization will structure their registration fees so that most people can afford to play.
When registration fees are low and affordable, there is no wiggle room to purchase additional items for the sport's season.
1. Create a goal with a dollar amount
The most common mistake made in fundraising is not having a goal.
You know the saying:
"If you fail to prepare, then prepare to fail"
So many non-profit organizations just hope for good results when they offer a fundraiser to their organization.
Their attitude may be: "whatever money is raised is more than what we had before".
Now that you are reading this, it can no longer be used as an excuse because…
We are all accountable for what we know.
Create your goal now.
Figure out every detail and cost associated with buying and installing a scoreboard/s.
This is your goal.
Remember, professional fundraising companies have proven strategies and support materials to help you reach your goals. If choosing a product to sell for your fundraiser, make it is backed by a company with proven results and offers a personal representative to assist you. Preferably 7 days a week to work with your volunteer schedule.
2. Do some easy math to define your goal
Once you have created your goal, you will need to break that goal down into what it will take each person or team to contribute to reach your goal.
Communicating your goal early is a good way for people to take ownership of your fundraiser and establish parameters for your expectations.
Also communicate the benefit for them and their children in reaching this goal.
Example:
If your goal is $12,500 and you have 100 youth in your program, each person would need to bring in $125 profit. Or if you have 10 teams, then each team would need to bring in $1250 profit.
Suggestion. Raise $12,500 profit with our cookie dough fundraiser. It's easy with 100 or more youth athletes. (click here to learn more)
You can ensure the success of your fundraiser at signups by helping each registrant create a social media post for your fundraiser.
Example: If you are using our cookie dough fundraiser, simply post a picture of the brochure itself to Facebook.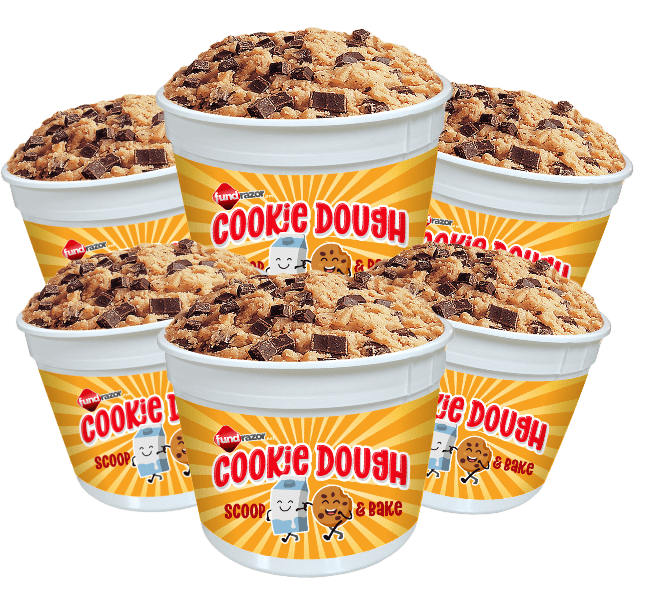 Raising money for scoreboards is one of the most popular reasons why youth baseball and football leagues use our cookie dough fundraiser. 
See for yourself why it's so popular and profitable.
Click here to learn more.
This one may hurt just a bit.
You can't expect parents, players and coaches to participate in your fundraiser if you don't participate yourself. FACT
When a customer (doing our cookie dough fundraiser) with a lot of potential turns in a sub par performance with their sales, we can almost guarantee that this happened.
We look at the results and check to see if the leader and other board member participated and 9 times out of 10, they did not.
Starting a few years back, we started suggesting "leading by example" at the onset of the fundraiser and have seen tremendous upticks in sales for them.
Want to show you are leading by example?
Do like one of our customer's did.
He posted a picture of his 5 year old daughter on Facebook holding our cookie dough brochure and asked "if anyone would like to buy from her."
Needless to say, her picture sold a lot of cookie dough. 
By the time you bring up fundraising to the parents in your organization, they have probably been picked on by the local schools a few times.
What is really unfortunate is your organization doesn't get the tax dollars like schools which perpetually send fundraisers home with your children. (dont get me wrong, school fundraisers are important too)
People tend to think they are getting "hit up" with another troublesome fundraiser and can you blame them?
That is why it very, very important to be transparent with your financials and communicating the need for fundraising.
In 50% of our polls, parent's didn't know the reason for the fundraiser other than they knew it was helpful to the youth organization.
Announce your fundraiser and what it is going to accomplish. Be like a broken record on your organization website, social media and with email/text broadcast.
Take some time before signups to create an easy to read graph with your league's financials.
Illustrate the money that registrations fee bring in and compare with the costs of operations for the season. It may even amaze you how much money you may need to raise.
People generally want to help but it's hard for them to justify another fundraiser when your local school has probably done a few already.
5. Incentivize your fundraiser
Everyone loves a good reward or even a prize.
Some people just want to be recognized for their accomplishments.
Why not do both?
Create incentives based on performance.
Here are some fun ideas:
You could create a league wide incentive when you reach your fundraising goal by having a "fun-day" event for everyone at your facilities.
Create top seller prizes for individuals, teams and families. Or all of them. 
Interestingly enough, some of the best incentives don't have to cost a lot of money.
Here is a great example of incentives that do not cost anything:
Top performing family in your fundraiser gets a free weekend night of babysitting worth 4 hours.
FREE registration for the next season with your individual top performer.
Here is my personal favorite: Create a VIP parking  space with a sign and their name for the Top performing family for the year.
Other incentives include gift cards to a local sporting goods store or restaurant that supports your organization. Perhaps they would be interested in donating.
(click
here
to see more ideas for incentives)
Always remember to give everyone involved, a proper "thank you" and recognition for their part in succeeding with your scoreboard goal. You can do this at an opening or closing day ceremony, social media, email/text broadcasts or all of the above.